Acura Brake Service & Repair in Bedford

Without question, one of the most critical safety components of your Acura is your brake system. In the event that your brakes were to suddenly experience a serious problem and fail to work properly, it would be nearly impossible to stop your vehicle safely. Making an effort to ensure that your brakes are in proper working condition is one of the best ways to keep both yourself and your loved ones safe behind the wheel. Motorcars Acura is your one-stop destination for all of your brake service and repair needs. Our team of factory-trained Acura technicians is standing by to give your vehicle the care and attention that it deserves.

When to Have Your Brakes Serviced
If you're worried about a potential problem with your brakes, the good news is that it's typically fairly easy to identify the problem before things get worse. Two examples include needing to press harder on your brake pedal in order to come to a complete stop or a gradual loss of overall stopping power when the brakes are applied.
While these are common signs of worn brakes, the symptoms listed below are indications of a much more serious and potentially more dangerous brake problem.
Your Acura begins to shake or pull to one side while the brakes are engaged
A brake system warning light has appeared on your dashboard or instrument panel
Total loss of brake pressure and the brake pedal falls completely to the floor
In the event that you experience any of the above symptoms, our recommendation is that you exercise caution, stop driving the vehicle as soon as it's safe to do so, and have it towed to an authorized Acura repair facility to be properly inspected and diagnosed.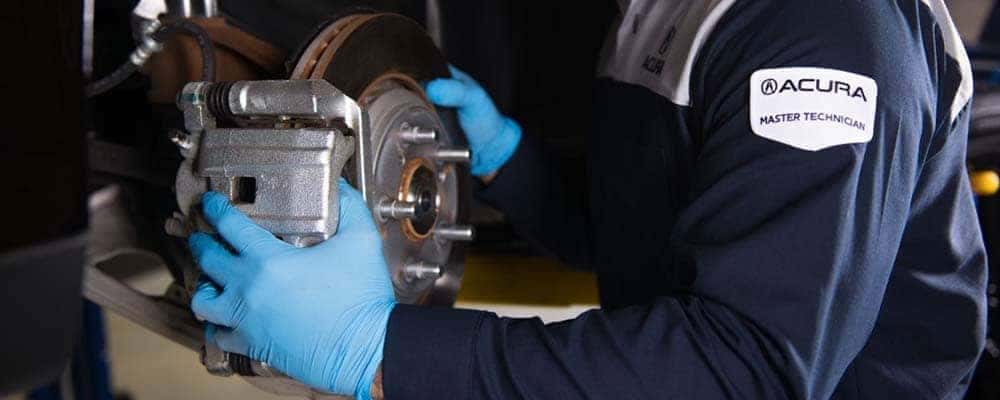 Have Your Brakes Inspected and Serviced at Motorcars Acura
As part of our multipoint vehicle inspection, our factory-trained Acura technicians will conduct a rigorous brake inspection including:
Measuring brake pad/shoe thickness to verify even brake wear
Checking brake lines and master/wheel cylinders are leak-free
Inspecting brake rotors for hot spots and run-outs
Checking brake calipers for excess movement, general wear, or fluid leaks
Inspecting anti-lock brake sensor operation
Adjusting and testing brake hardware if necessary
Checking brake fluid levels and condition
At Motorcars Acura, our friendly and knowledgeable service professionals will discuss their findings with you once the brake inspection is completed. If necessary, any worn-out components in need of replacement will be replaced with Genuine Acura brake parts designed specifically for use on your vehicle. You'll have the confidence and peace of mind that come from knowing that your brake system will be working as it should when you have your brakes serviced at Motorcars Acura.